Dental Bridges in Chula Vista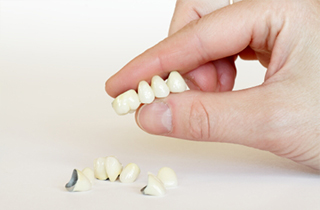 Dental bridges refer to non-removable or fixed appliances that help to fill gaps between teeth. Different materials can be used to accomplish this, including porcelain fused to metal, though porcelain is the most popular because of its close resemblance to natural teeth.
A fixed bridge comprises two crowns placed over two anchoring or abutment teeth, which in return are attached to artificial teeth (pontics), essentially filling any gaps created by one or more missing teeth.
SEE WHY DR. RISOS IS THE BEST DENTIST IN CHULA VISTA
Advantages of Dental Bridges – Bridging the Gap
Dental porcelain has an amazing ability to not only replicate the form, but the function of original teeth as well, which makes porcelain fixed bridges truly useful when looking to replace one or more teeth. The porcelain is sculpted to replicate the look of your natural tooth enamel, while its durability delivers a strong and reliable base.
With porcelain fixed dental bridges, you can:
Fill gaps of missing teeth
Restore your chewing and speaking ability
Maintain facial structure
Stop the remaining teeth from moving out of their position
Restore your smile
Upgrade from your removable denture to a permanent appliance
What to Expect During Dental Bridge Treatment
Getting a treatment receiving a dental bridge placed typically requires two visits. Depending on the type of bridge, the dentist numbs your teeth and starts preparing the anchoring teeth (usually two on either side of the gap) by removing a portion of the tooth enamel to allow for the crown.
Afterwards, an accurate impression is made and sent to the dental lab to aid in fabrication of your custom bridge. Until the final bridge is ready, you will have to wear a temporary bridge for several weeks. Proper brushing and flossing, as well as regular dental check-ups are still necessary after the permanent porcelain bridge is cemented.
How long does dental bridges last?
Dental bridges can last a lifetime if you care for them properly. To ensure the longevity of your bridge, follow these steps:
Brush your teeth twice a day and floss daily to remove plaque that is always forming on your teeth.
Eat a healthy diet
See the dentist regularly for checkups and professional cleanings
Always clean between your teeth and under the bridge
Quality Dental Bridges in Chula Vista- Restore Your Smile
Dr. Deanna Risos offers a whole range of customized dental bridges, from pocket-friendly options to the high-end zirconium bridges. When you come for your appointment, Dr. Deanna Risos will examine your tooth carefully to help figure out the best bridge options that will ensure you get the best possible results.
If you want to preserve your teeth and restore the quality of your smile using dental bridges in Chula Vista, consult with Dr. Deanna Risos. Contact us to schedule your appointment today.