Dental Veneers in Chula Vista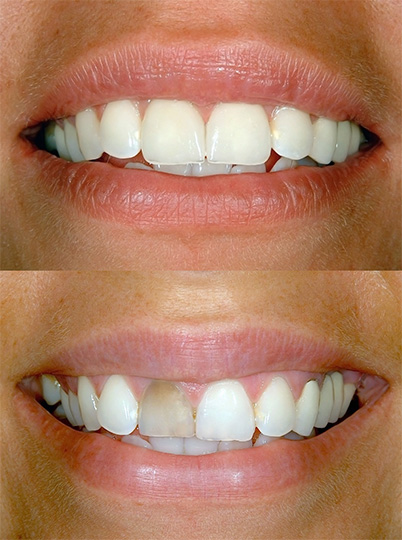 Discover how you can enhance your smile with dental veneers in Chula Vista, CA offered by Dr. Deanna Risos. Schedule a consultation today.
Dr. Deanna Risos - the best general and cosmetic dentist in Chula Vista offers dental veneers in Chula Vista, to get an attractive smile that is long lasting and quite inviting.
What are dental veneers?
Dental veneers are thin custom-made shells that are bonded to the front of your teeth to improve their color, shape, size, and length. Each dental veneer is customized to fit perfectly on your so as to cover your teeth's front surface and enhance the appearance of your smile.
What material are dental veneers made of?
Dental veneers are made from porcelain material. These materials uniquely mimic the look of natural teeth, disguise the tooth's imperfections and are resistant to stains.
Unlike crowns and dental implants, dental veneers in Chula Vista treatment are minimally invasive and require less removal of the enamel in the process.
What teeth problems can dental veneers fix?
Applying dental veneers can fix teeth that are:
Discolored
Worn down
Broken or chipped
Misaligned
Teeth with gaps between them
Irregularly shaped teeth
Uneven teeth
Dental Veneers in Chula Vista - What to Expect
Expect to come to our Chula Vista dental office twice for your dental veneers treatment.
During your first visit, Dr. Risos will examine your teeth, diagnose the problems you have map out a unique treatment plan that will ensure you have a beautiful smile. The next step involves careful removal of enamel from the tooth to prepare it. Local anesthetics may be used to numb the area during this procedure. An impression of your teeth will be taken and sent out to a dental lab so that a custom-made veneer is created for you. A temporary veneer may be placed till your next visit.
During your next visit, Dr. Risos will check and adjust the veneer to make sure it fits perfectly on your tooth before it is permanently cemented on your tooth. The veneer can have its edges trimmed and its color adjusted to assure a strong bonding process and beautiful smile.
Once your dentist finds a proper placement, the veneer will be permanently cemented to your tooth. A special light is used to harden the cement to ensure you have a perfect bite and smile.
A follow-up may be scheduled to check on the veneer placement. With proper oral care, Dental veneers can last a lifetime.
Why choose Dr. Deanna Risos Dental Implant Dentist
Patients come to Dr. Risos for dental veneers in Chula Vista because she:
Is uniquely trained and experienced
Is compassionate and dedicated
Offer high quality Chula Vista dental veneers dentistry
Is passionate about enhancing your smile
SEE WHY DR. RISOS PROVIDES TOP-RATED DENTAL VENEERS IN CHULA VISTA
Make your smile beautiful with dental veneers
For more information about dental veneers in Chula Vista or to schedule an appointment, contact our office today. Contact us at (619)482-8880